News
NOUVEAU IS A CONCEPT THAT PUSHES THE BOUNDARIES OF THE YACHT AESTHETIC TO AN EXTREME DEGREE MADE POSSIBLE BY SOPHISTICATED SURFACE MANIPULATION AND CAREFUL MANAGEMENT OF THREE DIMENSIONAL SPACE.
Inspired by the works of the classical exponents of the Art Nouveau style including Alphonse Mucha and Antoni Gaudi the design encapsulates the key principles of dynamism and organic form in an innovative and audacious manner.
The tense, diagonal lines create drama whilst concealing a surprisingly spacious interior, main deck head clearance being 2.7m leaving incredible possibilities for equally exciting interior spaces.
The bridge deck is elevated above a character filled owners deck that features a full width suite with balconies on both sides harmoniously aligned with the circular profile graphics and the main deck entrance below. Sunbathing and informal lounging areas make up the owners aft deck which is linked to the decks above and below by spiral staircases and a water feature which runs from the sun-deck Jacuzzi, across the bridge and owners decks and then down via a water-slide into the main deck pool. The purpose of this feature is to enhance the feeling of being at one with nature and the seascape.
A profile view of the design emphasises the concentric, circular graphic which converges on the main deck entrance and gives an impressive sense of scale and theatre when boarding. Likewise if arriving from astern where the bold, organic superstructure appears to sprout and grow from the swimming platform.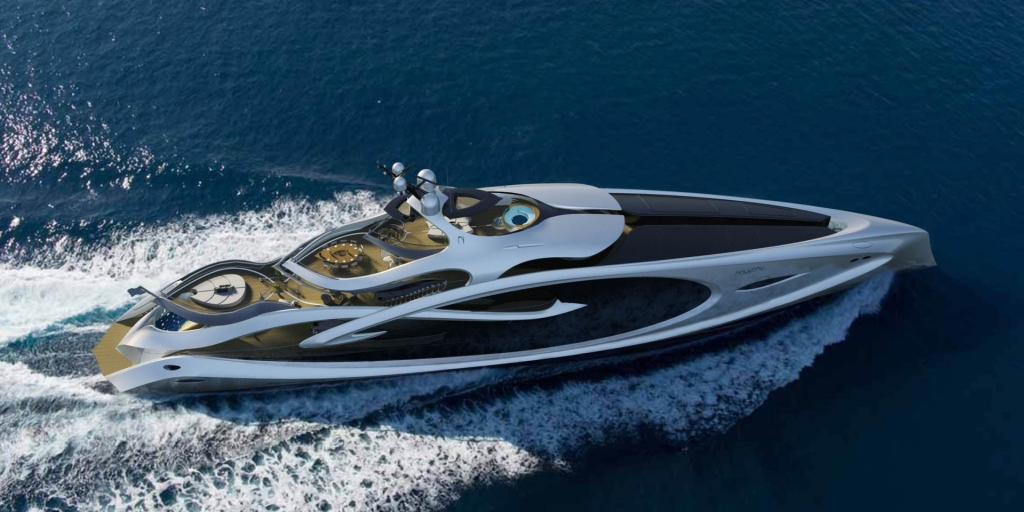 Forward on main deck there are twin VIP cabins with fold down balconies while dining and lounging space is to the aft and leads out onto an intimate deck with relaxed seating and an infinity pool. An owners office is situated aft of the wheelhouse and crew areas on the bridge deck with deck space for formal, al fresco dining. The intimate sun deck above provides a secluded retreat from the other social areas on board and a perfect place for 360 degree viewing the scenery.
Nouveau is aimed at the more modern client with a relatively small entourage who prefers to define themselves by their style and taste in design rather than by sheer size.
www.andywaugh.co.uk
Scroll Position Luxury Events
The luxury events in the world