The Slideshow of Luxovis and World Class Luxury
Scroll Position Contacts
The Contacts of the luxury item
Contacts
Hotels, Resorts & Villas

Mystique, a Luxury Collection Hotel, Santorini

Type: Hotel


Location: 84702, Santorini, Santorini, Greece

Address: Oia
Hotels, Resorts & Villas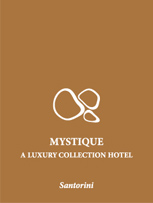 Mystique, a Luxury Collection Hotel, Santorini
Type: Hotel

Location: 84702 Santorini
Address: Oia
Scroll Position Overview
Overview of the luxury item
Overview
LOCATION
Stylish property consisting of 38 suites and villas built exactly on Oia's most famous cliffs with dazzling views of clear blue equatorial waters towards the volcano and the Aegean Caldera.
18 km from Santorini Airport and 20 km from Athinios Port.
ARCHITECTURE
Typical island-style design that preserves the nature in a climate of unabashed luxury built in the world's most beautiful scenery.
HOTEL LIFE
Reserved for only the most discerning of travelers, Mystique is nothing but a pure natural and exclusive retreat. Thirty five suites and villas in a landscape of more than 2000 square meters provide a sensorial experience of Santorini in surroundings of understated elegance.
Guests may experience the outdoor infinity-edge pool, the "Aura" Bar, the "Charisma" Greek Restaurant, "Asea Lounge Restaurant" for Japanese cuisine and sushi and the "Secret" Wine Cave, a dramatic wine cellar with the most rare and indigenous wine selection.
All accommodations are a wondrous exploration of driftwood, a free spirited, untamed material that harness the elegance of simplicity. Enticing patterns carved into the walls. Cobblestone pathways lead to the plunge pool surrounded by sun beds for the utmost relaxations.
Scroll Position Features
Features and Amenities
Features
- Down duvets
- Twice-daily housekeeping services
- Down pillows
- Telephone(s) with voicemail and conference call capability
- Hair dryer
- Hypoallergenic pillows on request
- Thick terry bathrobes
- All-news cable network
- Wireless Internet access
- iPod docking station
- In-room safe
- DVD player
- Refrigerated private bar
- Daily newspaper delivery
- Coffee- and tea-making facilities
Find luxury items close to this item
The same Luxury Properites
The Luxury Hotels, Resorts & Villas
Scroll Position Luxury Events
The luxury events in the world