The Slideshow of Luxovis and World Class Luxury
Scroll Position Contacts
The Contacts of the luxury item
Contacts
Shops & Boutiques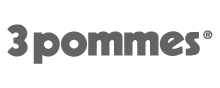 Type: Store

Location: 75010 Paris
Address: 17 rue Martel
Scroll Position Overview
Overview of the luxury item
Overview
Since 1973, 3pommes dresses the girls and the boys from 0 to 12 years old.
Every year, our stylists create 2 collections, Spring /Summer and Autumn / winter, by being inspired by major trends of the childish fashion.
With more than 1 600 retailers in the world established mainly by multibrands and of department stores, 3pommes is the major brand to dress the children with style and comfort with reasonable prices.
Find luxury items close to this item
The same Luxury Properites
The Luxury Shops & Boutiques
Scroll Position Luxury Events
The luxury events in the world